LIKE NEW
1 Owner Desperado Pale Rider Softtail

Only 650 Miles!!

d a Nicer Desperado than this one it is absolutely LIKE NEW.
Yes the Miles are Correct on this Bike !
The Desperado
Pale Rider SFT High Performance Motorcycle Series is yet another example of a motorcycle with Bad Attitude written all over them. The SFT represents the Softail Chopper version. These motorcycles have the exotic look and styling of a Stealth Bomber yet have the performance and maneuverability of a fighter aircraft. The Pale Rider Series motorcycles are yet again a true high performance motorcycle.
So come on down and visit us here at NORTH GEORGIA FORD in Blue Ridge located in the beautiful scenic mountains of North Georgia!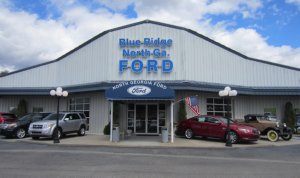 Blue Ridge North Georgia Ford
7525 E Appalachian Hwy
Blue Ridge, Georgia 30513